February 2023: Digitization is certainly the way forward. While it is applicable for all sectors and verticals of industries, the manufacturing industry faces some unique challenges. Digitization could actually solve most of the issues for enterprises in the manufacturing sector. The ultimate focus is the customer requirement, and hence design solutions and tools take centre-stage. With digitalization, most of the product designing, prototype, and even testing solutions can become much more efficient and faster. This new paradigm also ensures a faster time to market because without that speed, even a slight delay can kill your product because your competitor is moving as fast, if not faster. Following are the insights from some of the Key Speakers at the NASSCOM COE Industry 4.0 Edition themed 'Building an Agile Manufacturing Enterprise Leveraging Digital Tech' organized in Chennai recently. We start off with the CEO & Founder of our Gold Partner, Lincode.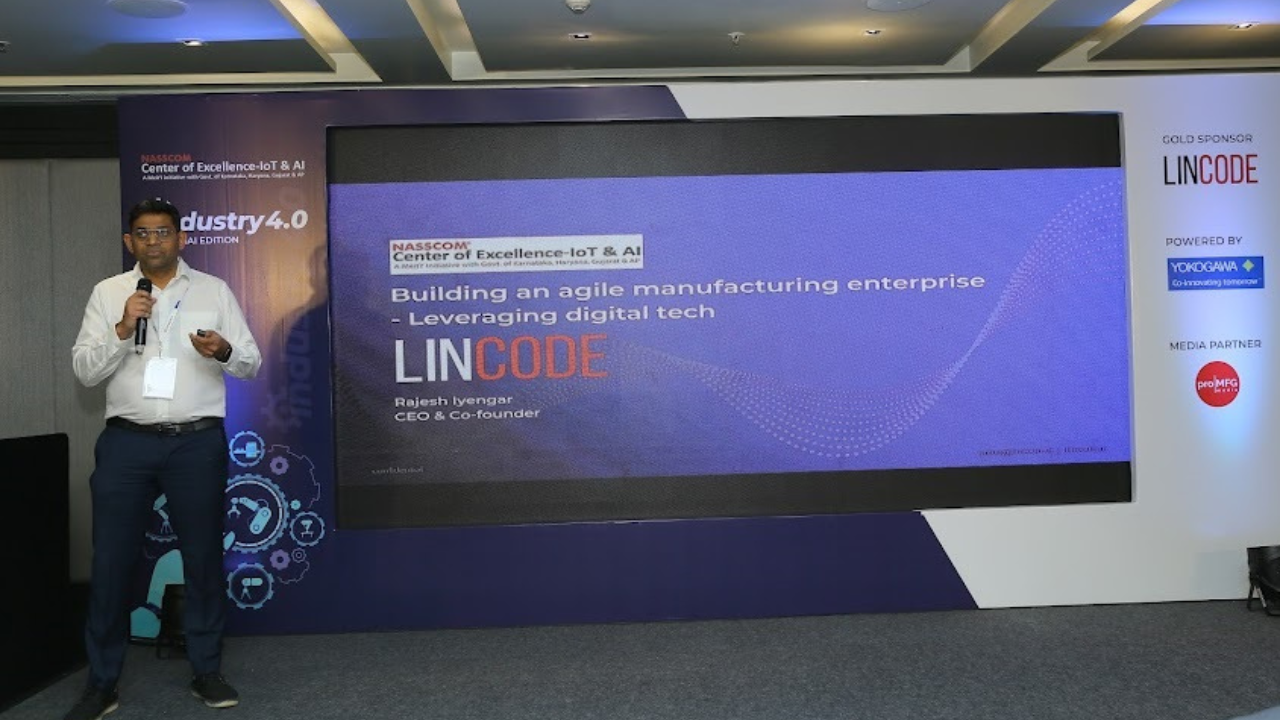 Rajesh Ayengar, CEO & Founder, Lincode Labs Inc.
"The smart factories have hyper automation, which is making various minute automations. A lot of manufacturers are focusing on that today and with that they are able to reduce operational cost by 25 percent (this is a global stat from Gartner). Manufacturers today look at Industry 4.0 with cost reduction as the main objective. They are looking at manufacturing quality control which gives them 100 percent cost reduction. The next major aspect is manufacturing process optimization and this is where robotics is going to play a key role. Then, of course, revenue growth and customer satisfaction come on the list. However, manufacturing quality control and process optimization are the major aspects for the businesses today. Today, we are just focusing on how manufacturers are able to solve the Quality Inspection challenges."
Senthil Nathan M, Assistant General Manager Maintenance Tanfac Industries Limited:
The pillars of successful digital transformation are: 1. IT Uplift, 2. Digitizing operations, 3. Data Analytics & Marketing, and 4. New Ventures (Taken from a Harvard business study). Digital Transformation has made a transformational change in the entire working of our company. We would like to get associated with the start-ups and take a benefit out of that. We have lots of myths about marketing. We think higher the turnover, higher the profitability, but it's not so in the case of manufacturing industries.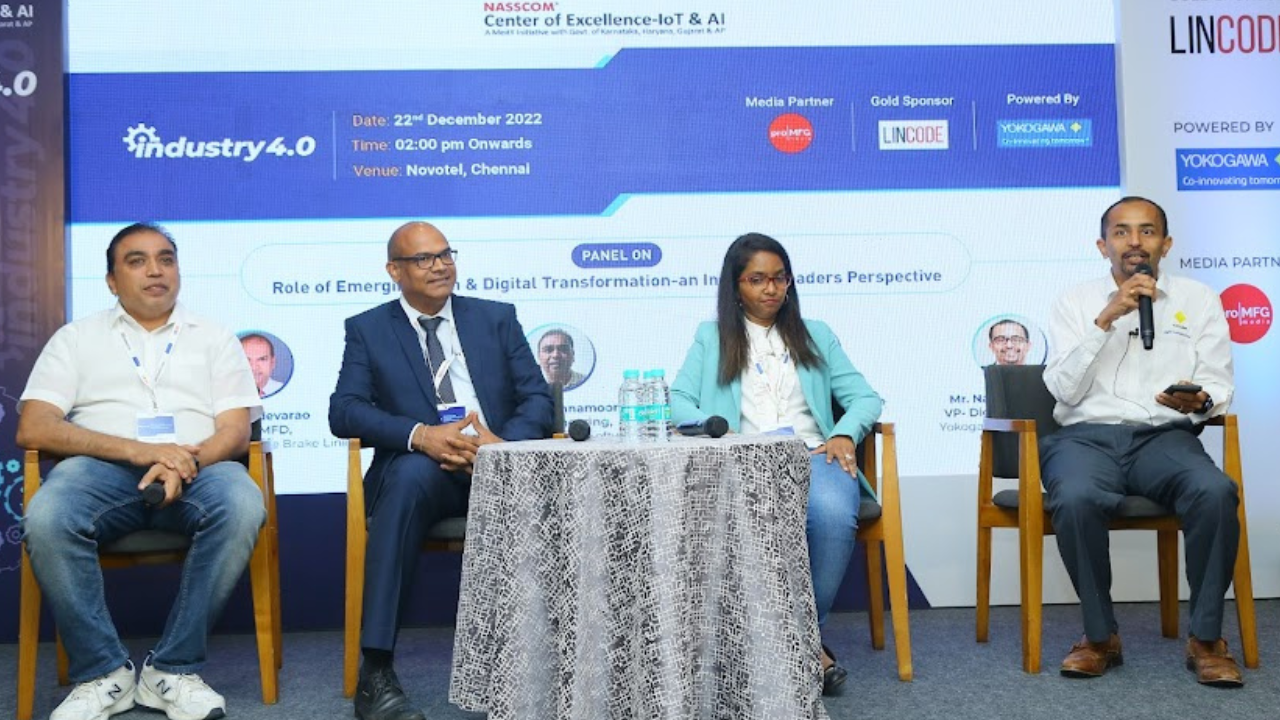 Insights from Panel 1
Suresh Sahoo, Global Leader - Enterprise Tech. Network Operations - Ford Motor Company
"Different plants will have different products. That's where convergence is becoming more meaningful. The grey area which tries to join IT and OT is IoT sensors. This convergence is helping a lot when it comes to industry 4.0."
Maheshwari Dhayanandan, Vice President - Product & Manufacturing, e - Con Systems
"The challenge faced in manufacturing is there is a wide variety of products, with a high need for accuracy, which can get to micrometres. I need a manufacturing pipeline, which needs to cater to the accuracy of the products and also the range."
Ashok Muthuswamy, TAFE, VP - BE & TQM - TAFE Group, Plant Head
"We have all of our products digitally designed and validated electronically, and it is sent to our engineering team where all the products and the fixtures are looked at, designed digitally and validated. These are all the aspects that can only be addressed digitally."
Prof. S. Krishna Kumar (KK) Mentor, CEO Coach, Six Sigma Black Belt, Ex - Murugappa Group (Moderator)
"Agile manufacturing is an improvisation of lean manufacturing, which essentially focuses on waste. Agile retains the benefits of lean manufacturing, coupled with a strong focus on rapid response to the changing needs of customers. Today, speed and agility are competitive business strategies which are relevant in contemporary business management."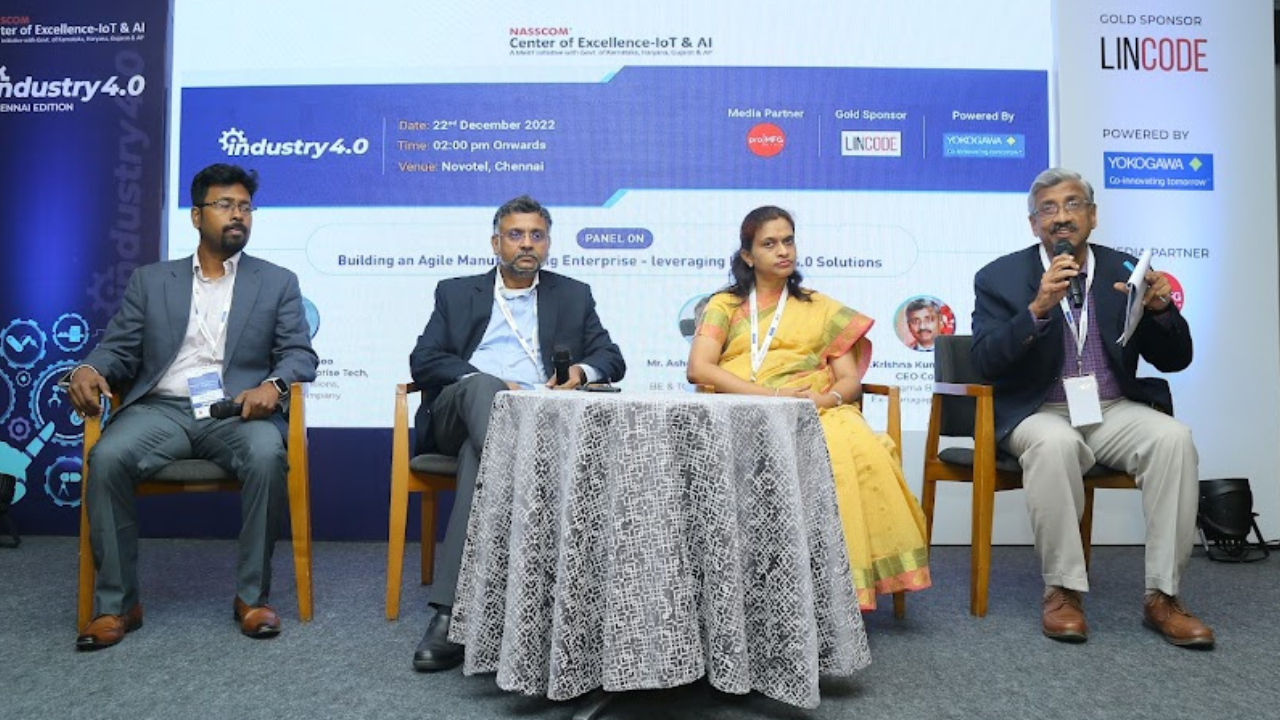 Insights from Panel 2
Vasudevarao, GM - CMFD -Operations Plant 1, Rane Brake Lining Ltd
"We first try to give the flavour of how it will work for them. We started bringing in the perspective of putting into OEE or predictive maintenance. Change is happening, but we'll have to do what is easier instead of learning new things. We are bringing it into the culture and training them, and that's how we are doing it – planning for Industry 4.0."
Laks Krishnamoorthy – VP Engineering, Director and GM Navis Software India
"We have been a part of the change. From a consumer perspective we have been evolving in our use of social media, and how we are getting information. It's instant. The patience is waning, but we are getting too much information. It's all about taking the ports, taking the logistics, and transforming that into digital areas."
Sowmya Thyagarajan, Founder & CEO, FoviaTech, GmBH
"The diversification of digital transformation or use cases is completely different from what we are seeing in Asia Pacific, and even India. Blockchain is an upcoming and important tech to be implemented from a cybersecurity perspective, but certification is a huge problem when it comes to data."
Naveen Kashyap, VP - Digital Innovation, Yokogawa Electric Japan
"Digital transformation is a mindful application of technology which reorients the performance of industries or businesses exponentially."
Insights from the Tech Start-ups
Thirukumaran Saravanan, Co-Founder & Chief Business Officer, XR Labs: Back (in 2015) the investment was driven by motivational factors like reducing safety incidents and reducing accidents. Today, you see these companies are leveraging VR based training. You reduce the cost of training by ensuring people don't have to travel for it, and you also take away the risk during training."
Vishal Ahankari, Key Account Manager & Associate Solutions Strategist, AutoVRse: Conventionally, most of the companies have been trying to do classroom training or provide documents, ppts, PDFs and all of that. But those are not very helpful as people don't retain knowledge. Through VR, because you have the headset on, your complete focus is on the job. It's a platform where you get all those advantages which can be integrated with your existing LMS. You can have very insightful data and at the same time you can track progress like which employee has trained, how was the performance and what score did she/he achieve. So, all those insights can be gathered."
Aman Agarwal, Co-Founder & CTO, Syook: The underlying problem is the lack of visibility and this lack of visibility creates a lot of inefficiencies including low productivity, poor utilization of your assets, and a lot of non-compliance.
Srinivasan Yagnanarayanan, Founder, GRAHAs VR: Technology has transformed everything. It has disrupted almost all the major industries across sectors and domains. But technology is yet to transform some of the key areas of manufacturing. Industrial training has always been time and cost consuming. Apart from the cost in time involved in these processes it involves production downtime, concentration labs and other indirect costs related to training that's why we're on a mission to transform industrial training with our virtual reality-based solution."
Bala Subramonian, General Manager, Tespa Robotics: We have implemented most of the IoT enabled robots for major OEMs mainly for two-wheeler manufacturers. There is direct IoT solution with our robots. So, not only do you know the cycle time but it also helps you understand how many times an error has occurred, or what is the productivity and how is the OEE. Basically, they are able to integrate everything with our software."
Puneet Badrinath Founder, Fabrik: Fabrik is an authoring tool that you can interact with. You can drag and drop your CAD interact with various assets. What we have we used it for is creating Factory floors with digital twins. This is real-time data that's coming into the visuals and this runs on the phone with 3G/4G, or runs on a regular computer. This is key because you should be able to scale it with as little computers as possible. We have been able to vertically integrate the physical world and put a visual layer on top of it, and the inputs can be manually added."
Adrian Pinto, Co-Founder and COO, Factri.Ai: At Factory.ai, our vision is to drive human-centric Industry 4.0 models that benefit manufacturers across different sizes and across multiple industries. Today's manufacturing companies, especially the labour-intensive ones, are still tracking shop floor data manually using registers, log books, or Excel. That data is then digitized a couple of days later. So, this lack of real-time data visibility and good data severely restricts the amount of benefit that these manufacturers can get from Advanced Solutions."
Nishanth Raja, CEO and Co-Founder XYMA Analytics: If a sensor fails, the industry starts to lose from day one. The existing sensors that are currently available in many of the manufacturing industries have a single point measurement. Most of them are working on legacy-based physics on top of it. We want India to be a sensor leader (because most of the sensors that are currently used are imported) and we believe that XYMA sensors will make a difference."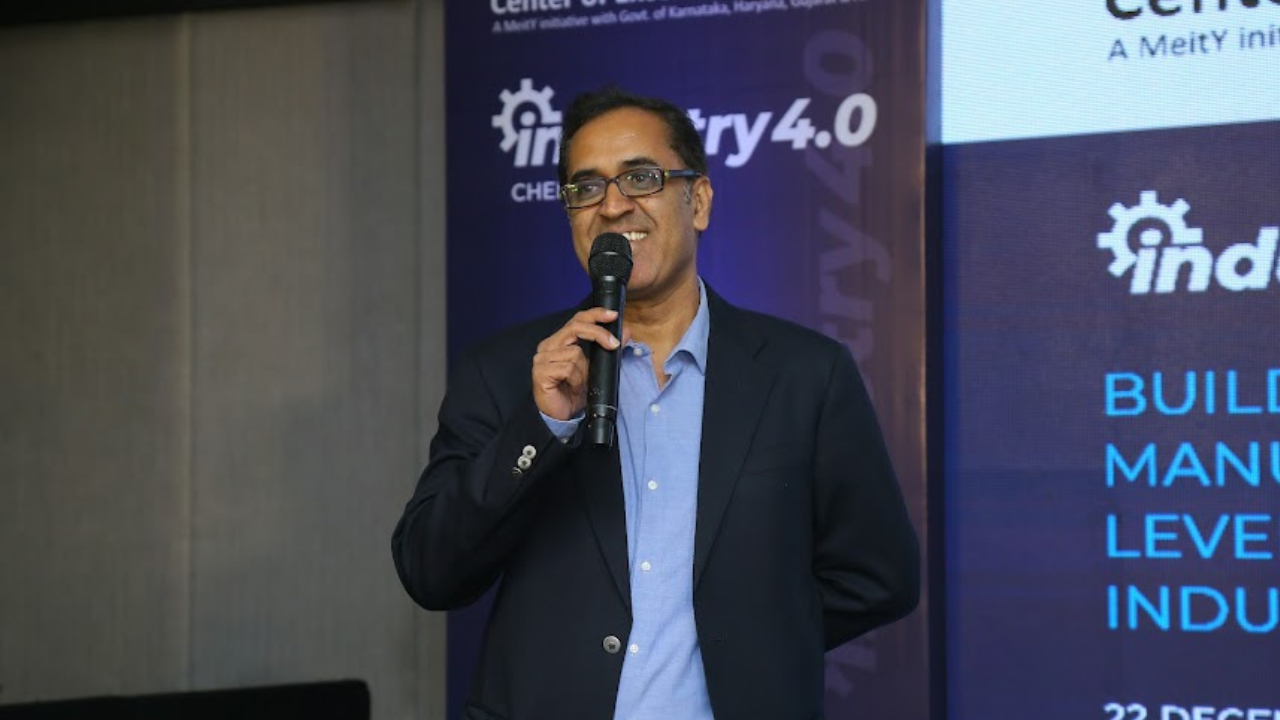 Learnings from the Conference
One of the challenges in this sector is digitally transforming organisations with a legacy infrastructure. This can today be remedied by using digital twins, that make it easier to upgrade, by retrofitting the solutions that are in legacy setup. 'Digital twins' is a very interesting area. It's a learning system and it is capable of performing up to level 5 operations. The adoption and its efficacy will depend on the industry and the size of operations, apart from skills. For many industries, it would be pertinent to do a pilot project and then, with those learnings, it could be adopted companywide or unit wide. They could start with deploying futuristic solutions for automation, digital twins and AI in small stages, and develop multiple patterns, till it becomes easier to test and simulate, because making a physical prototype is a time-consuming process.
New Models
Having said that, there are many new models being adopted in other parts of the world, like the SaaS based models, but Indian companies still are going slow, because of various concerns- security being the topmost. Cybersecurity is in fact one of the biggest concerns for why people are sceptical about Industry 4.0. Cybersecurity is actually key for any digital solution for the shop floor.
Industry 4.0 as a Transformation Tool
There is a need for more information on how industry 4.0 can be used as a transformation tool to benefit operations, supply chain, and quality as well. This industry has covered a lot of ground on mechanization and automation. In the future, consolidation of data should happen with different solutions in different verticals. The efficiency of the production line is entirely dependent on the efficiency of the operators.
The underlying problem is lack of visibility and that creates a lot of inefficiencies with respect to low productivity, poor utilization of assets, and non-compliance. The future is a completely no-code platform, which is modular and configurable to each use case, helping with people management where the biggest challenges are on safety, to keep track of people in case of an incident.
Create a Real Time Database
In order to drive human-centric Industry 4.0, there is a need for models that benefit manufacturers across different sizes, and across multiple Industries. Manufacturing companies today, especially the labour-intensive ones, are still tracking shop floor data manually by using registers, log books, or Excel worksheets. That data is then digitized a couple of days later. This creates a lack of real-time data visibility, severely restricting the benefit that these manufacturers can get. There is a need for a solution that helps to create a real time database that helps increase their productivity, identifying and reducing non-value-added activities on the shop floor, using this accurate tracking data.
Process Optimization
The next major aspect is manufacturing process optimization and this is where robotics is going to play a major role. Manufacturing quality control and process optimization is the major aspect for the businesses today, going specially for Quality Inspection challenges. Eventually, industry 4.0 is all about working in a digital ecosystem, which will greatly help everyone across the value chain. For that, first you optimize, transform and clean it up, then you go digital.
Training
The skill sets needed for adopting digital technologies are coming from all corners of enterprise. Small companies and start-ups are getting revolutionary ways of creating skill sets by appropriate training too. Augmented and virtual reality will be one of the ways to get high quality training for the resources needed for this transformation, at low costs and in hybrid mode. Today, many companies are leveraging VR Based training to reduce the cost of training by ensuring people don't have to travel for it, taking away the risk during training. Through VR the complete focus is into the job, and that is a platform which delivers all the advantages which can be integrated with the existing LMS. It can deliver very insightful data and at the same time capabilities to track progress - which employee has trained how much, how was this performance, and the scores they achieved.
Learning from Start-ups
Ultimately, the four pillars of successful digital transformation are: IT Upliftment, Digitizing operations, Data Analytics and marketing, and new ventures, says a Harvard business study. There are a number of solutions and ideas that come to fore, but not all companies derive value for money in the process of transforming digitally. In this journey, there is a great support that the industry can claim from innovative start-ups that are already showcasing smart uses of existing technologies, creating tools for easier, smoother transformation, and a gradual, seamless and efficient change of how the entire industry works. This industry needs this change desperately- because it does not have a regular marketing model of higher the turnover, higher the profitability. Process efficiency plays a huge role in the manufacturing industry, and its role in digital transformation will also be critical.