A report by Special Purpose Group (SPG) Livelihood and Employment (LE).
An initiative of Alumni and Associates of Jnana Prabodhini Prashala
Introduction and Research Objectives
A group of 10 professionals with different backgrounds (part of Jnana Prabodhini Special Group) set out on a research journey over 6 months from August 2020 to January 2021 to understand the challenges, opportunities and way ahead for MSMEs connected with Indian Defence sector.
This topic is gaining traction due to the intersection of 3 broad contexts:
● Government thrust on Make in India and Atmanirbhar Bharat
● Increased spending on Defence
● MSMEs as engines of growth and employment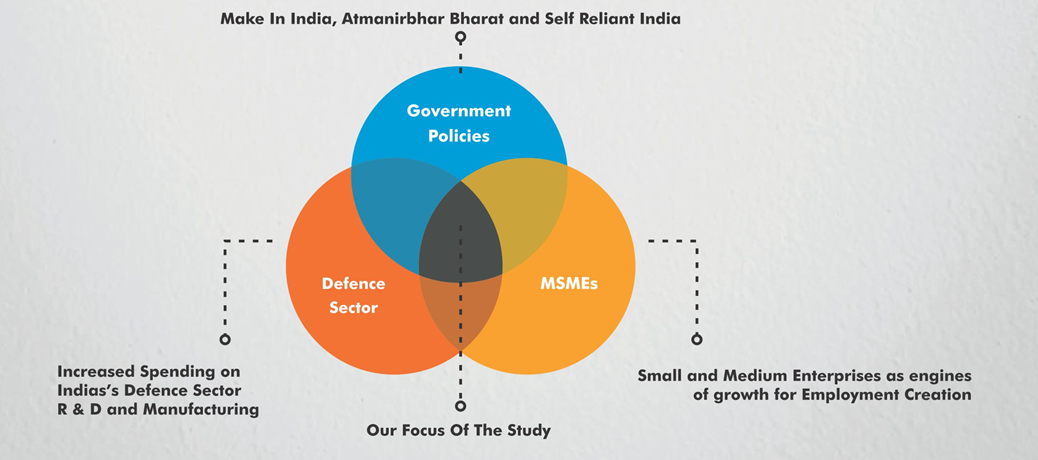 The main research objectives were:
● To understand MSME experiences regarding business processes, finance, quality assurance, delivery, and other aspects of business interactions, in dealing with various stakeholders in the defence sector
● Explore MSME perceptions regarding opportunities and challenges for growth for MSMEs in the defence sector.
● To receive feedback on the past, present policies, practices and suggestions from MSMEs to make those policies friendlier.
● To arrive at concrete short-term and long-term recommendations for policymakers to ensure SMEs' higher participation and performance in the defence sector.
Methodology
The methodology consisted of:
● Literature review of current policies
● Structured questionnaire and
● Personal interactions with MSME entrepreneurs and subject matter experts.
Literature Review
Literature review undertaken for this study contained the following aspects:
● Review of the policies related to capital and revenue procurement, manufacturing and related activities like quality control in the Indian defence sector. These include the policies of the Ministry of Defence and government's defence organisations like the DRDO and OFB. A special focus was given on the evolution of policies within the last six years.
● Review of various programs and decisions taken by the government to promote MSMEs and start-ups in the defence sector, like competitions and opening up testing centres.
● Review of past studies and reports by professional organisations, like E&Y, KPMG, IDSA etc., targeting the MSMEs in the Indian defence sector.
A detailed list of references is given in the Appendix of the report. In addition to these, review of CAG observations on defence procurements, General Financial Rules of the Ministry of Finance, outreach activities of DRDO and Armed Forces etc. was also taken to understand the executional realities of defence procurement. The aim was to understand the thinking behind setting up the rules and frameworks for defence procurement. This served as a benchmark to check how much of the well-intended policies actually became a reality experienced by the MSMEs.
Structured Questionnaire and Personal Interactions
The emphasis was on Samvad (Dialogue) with the owner entrepreneurs to understand their challenges and recommendations. The team received responses from 31 owner entrepreneurs to the questionnaire and spent 30 hours in personal interactions through face to face and virtual meetings with different experts.
The questionnaire was divided into 3 parts: (as depicted in the diagram below)
1. Overview and Financial Performance of the company (through multiple choice questions)
2. Challenges faced in executing business processes especially in the context of current policies and way of working of the defence establishment (through multiple choice questions)
3. Recommendations (through free form text)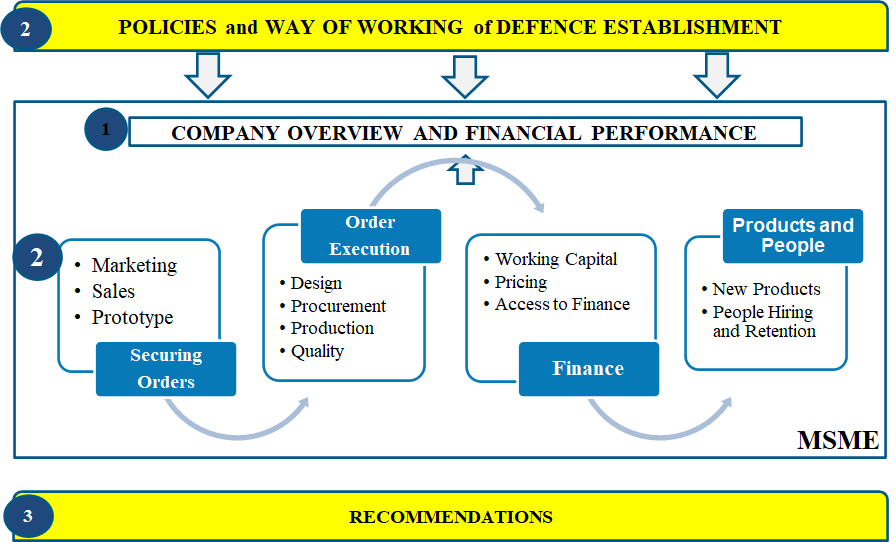 Summary of Challenges faced by MSMEs
The key challenges experienced by MSMEs (picked up through the questionnaire):
● Sales growth is not satisfactory (relating to defence business)
● There is pressure on finances due to high working capital requirement
● Repeat business is not assured
● Customer schedule / order changes after order is finalized
● Availability of Raw Material is a challenge
● New Product Development Lead Time is longer than expected
● Limited visibility about future requirements
● Limited awareness about new initiatives and policies
● Participation in policy making is not adequate
● Order is finalized based on lowest possible price (L1 policy)
● Easy and low-cost access to finance is not easily available
● Recruiting and retaining employees is a major challenge
The critical and recurring issues (from the above list) were L1 pricing and the lack of clarity on the end-to-end procurement process at the customer end, best summarized by the following quotes from owner entrepreneurs:
"In one particular instance, we developed and manufactured 300 pieces of a particularly innovative product. To our utter surprise, after three years, they floated a tender and gave the order to someone who quoted the lowest price"
"Let me give an example of a private car manufacturer. When they want to buy a particular piece or assembly developed, they show us the car with fitment of my product. Design and engineering drawings follow. There is a detailed project plan with agreement on important milestones. As a vendor to that manufacturer, I am clear about my role. I know exactly where and how do I fit in their design. Similar clarity would be appreciated and valuable in case of defence requirements"
Exploring Solutions
Following are the different solutions which need to be explored. These mainly came out through our discussions with SME Owner Entrepreneurs and thought leaders in this space.
✤ A shift from L1 to P1 - Preferred supplier status through accreditation
✤ One Nation One Database for Defence SMEs
✤ Some Assurance around Repeat business and/or IPR so there is some certainty of continued work and acknowledgement and realized benefits of the past work.
✤ Better access to test sites, and interactions with the end-users.
✤ Transparency with a lot more openness, participation, communication and a partnership orientation
✤ Responding to financial needs with appropriate financial framework
✤ SME preference in the defence corridor
✤ SMEs specific problem bank
✤ Trust in the capabilities of the SME to develop, execute and deliver products, services needed by the defence sector.
✤ Standalone Innovation grant fund for SMEs
✤ Individual SMEs should Design for DefencePlus (defence plus commercial)
✤ Utilise vast untapped potential by challenging them with more complex and cutting-edge problems to be addressed in time bound manner
✤ Speed in project clearance right from the stage of specification of design till payments are made for the work rendered
✤ Higher and deeper integration with Educational institutions
Summary
SMEs bring in unique strengths in terms of speed and agility in complex problem solving.
Given the huge opportunities on one side, but threats and weaknesses on the other, it is vital to keep the current pace of reforms and initiatives to increase the involvement of MSMEs in Defence manufacturing, while at the same time looking for changes which create win-win across all stakeholders to ensure sustainability of the changes.
Complete Report will be available on demand.
Contact – Aniruddha Joshi