March 2023: Inaugurated by Prime Minister Narendra Modi, the five-day Aero India 2023 concluded successfully on 17th February 2023. Organized at the Air Force Station, Yelahanka the event, the biggest-ever till date, witnessed the participation of 98 countries. The Defence Ministers of 32 countries, Air Chiefs of 29 countries and 73 CEOs of global and Indian OEMs attended the event. Eight hundred and nine defence companies, including MSMEs and start-ups, showcased the advancement in niche technologies and the growth in aerospace and defence sector. Arroon (Kumar) Dikkshit, Regional Director of Operations & Sales (APAC), Foviatech GmbH, presents an insightful overview of the Show.
Themed 'The runway to a billion opportunities', Aero India 2023 showcased design leadership, growth in UAVs Sector, Defence Space and futuristic technologies. The event was aimed at promoting export of indigenous air platforms like Light Combat Aircraft (LCA)-Tejas, HTT-40, Dornier Light Utility Helicopter (LUH), Light Combat Helicopter (LCH) and Advanced Light Helicopter (ALH). Aero India 2023 aimed at integrating domestic MSMEs and start-ups in the global supply chain and attracting foreign investments including the partnerships for co-development and co-production.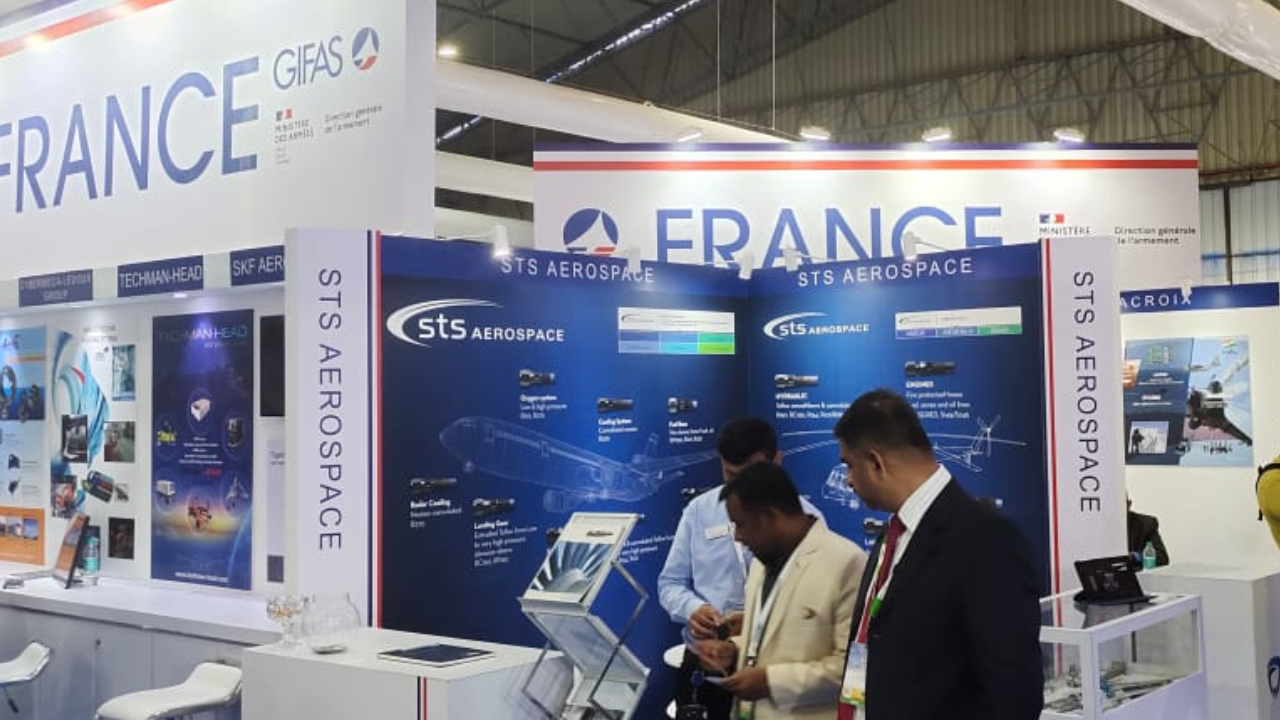 Image courtesy: Arroon (Kumar) Dikkshit
Major exhibitors & equipment
The major exhibitors included Airbus, Boeing, Dassault Aviation, Lockheed Martin, Israel Aerospace Industry, BrahMos Aerospace, Army Aviation, HC Robotics, SAAB, Safran, Rolls Royce, Larsen & Toubro, Bharat Forge Limited, Hindustan Aeronautics Limited (HAL), Bharat Electronics Limited (BEL), Bharat Dynamics Limited (BDL) and BEML Limited. "One interesting observation is that French companies had come in full force at the Show. This showed that the French manufacturers are very buoyant and confident about the products in India, whether it be Land Systems, marine systems or air systems or communication systems or missile systems or radar systems. There were a lot of partnerships here."
Reality of New India
Addressing the gathering, the Prime Minister said that Bengaluru sky is bearing testimony to the capabilities of New India. "This new height is the reality of New India, today India is touching new heights and transcending them too," the Prime Minister said.
The Prime Minister said that Aero India 2023 is a shining example of India's growing capabilities and the presence of around 100 nations at this event shows the trust that the entire world shows in India. He noted the participation of more than 800 exhibitors including Indian MSMEs and startups along with the well-renowned companies of the world. Throwing light on the theme of Aero India 2023 'The Runway to a Billion Opportunities', the Prime Minister expressed that the strength of Aatmanirbhar Bharat keeps on growing with each passing day.
In his address, the Raksha Mantri Rajnath Singh lauded Prime Minister Narendra Modi for guiding India on the political and economic map of the world and made special mention of his unwavering commitment towards the industrial and economic growth of the country. He described Aero India as an expression of that resolve.
The Raksha Mantri asserted that India has become a promising manufacturing destination due to its business-friendly environment and cost-competitiveness. "India has become the fifth largest economy in the world due to the vision and determination of our Prime Minister. It is well on course to become the third largest economy in the next 4-5 years. India's G-20 presidency this year is also a reflection of India's growing stature on the international platforms," he said.
The Raksha Mantri also shed light on the growth story of the Indian defence sector, saying that it has come a long way in the last few years and is marching ahead on the path of empowering the nation with full zeal and dedication. He termed Aero India as one of the pillars which has strengthened the defence sector and has given it a new identity.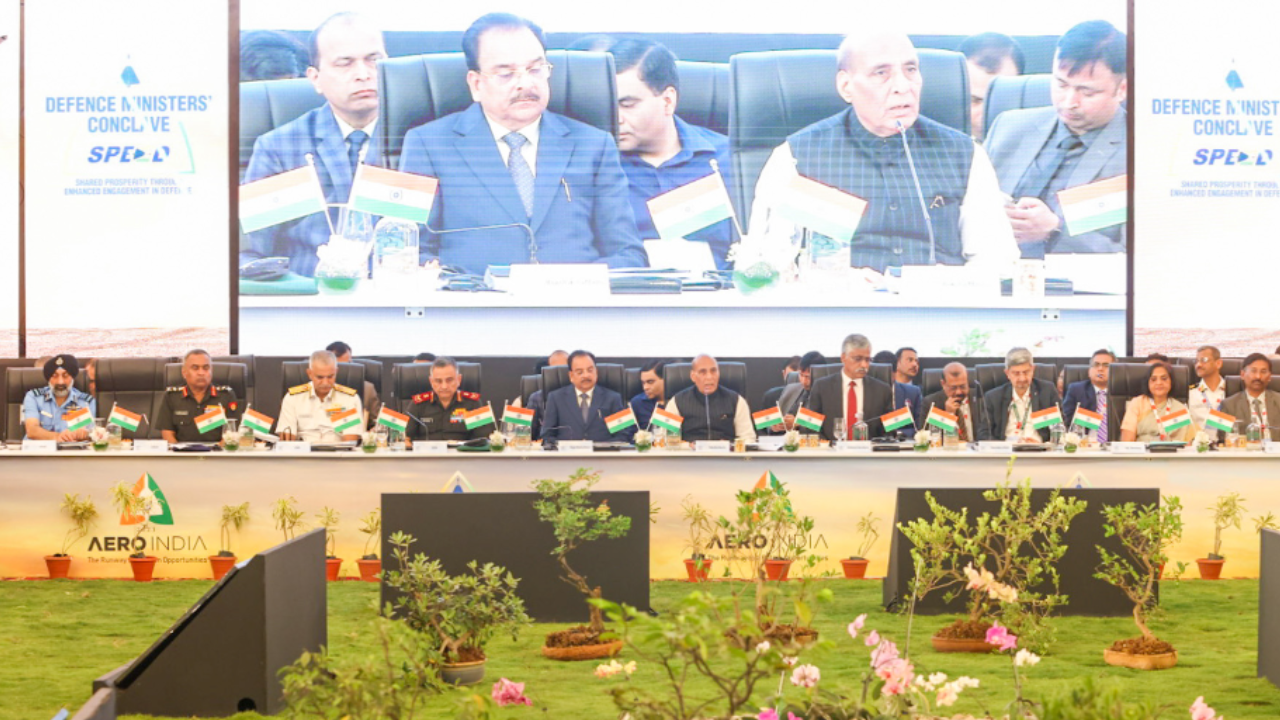 Image courtesy: PIB
Defence Ministers' Conclave
The Raksha Mantri hosted Defence Ministers' Conclave on 14th February. Defence Ministers of friendly foreign countries participated in the meeting, which was organised on the theme 'Shared Prosperity through Enhanced Engagements in Defence (SPEED). The conclave addressed aspects related to deepening cooperation for capacity building (through investments, R&D, joint venture, co-development, co-production and provisioning of defence equipment), training, space, Artificial Intelligence (AI) and maritime security to grow together.
The CEOs Round Table
The 'CEOs Round Table', under the chairmanship of the Raksha Mantri, was held on 13th February on the theme 'Sky is not the limit: opportunities beyond boundaries'. It laid the foundation of a more robust interaction between the Industry Partners and Government with an eye on bolstering the 'Make in India' campaign. The Round Table witnessed participation from officials, delegates and global CEOs from 26 countries including global investors such as Boeing, Lockheed, Israel Aerospace Industries, General Atomics, Liebherr Group, Raytheon Technologies, Safran, General Authority of Military Industries (GAMI) etc. Domestic PSUs like HAL, BEL, BDL, BEML Limited and Mishra Dhatu Nigam Limited also participated.
Bandhan ceremony
The Bandhan ceremony included signing of Memoranda of Understanding (MoUs)/Agreements, Transfer of Technologies, Product Launches and other major announcements on 15th February. The Raksha Mantri presided over the Bandhan Ceremony that witnessed 266 partnerships including 201 MoUs, 53 major announcements, nine product launches and three Transfers of Technology, worth around Rs 80,000 crore.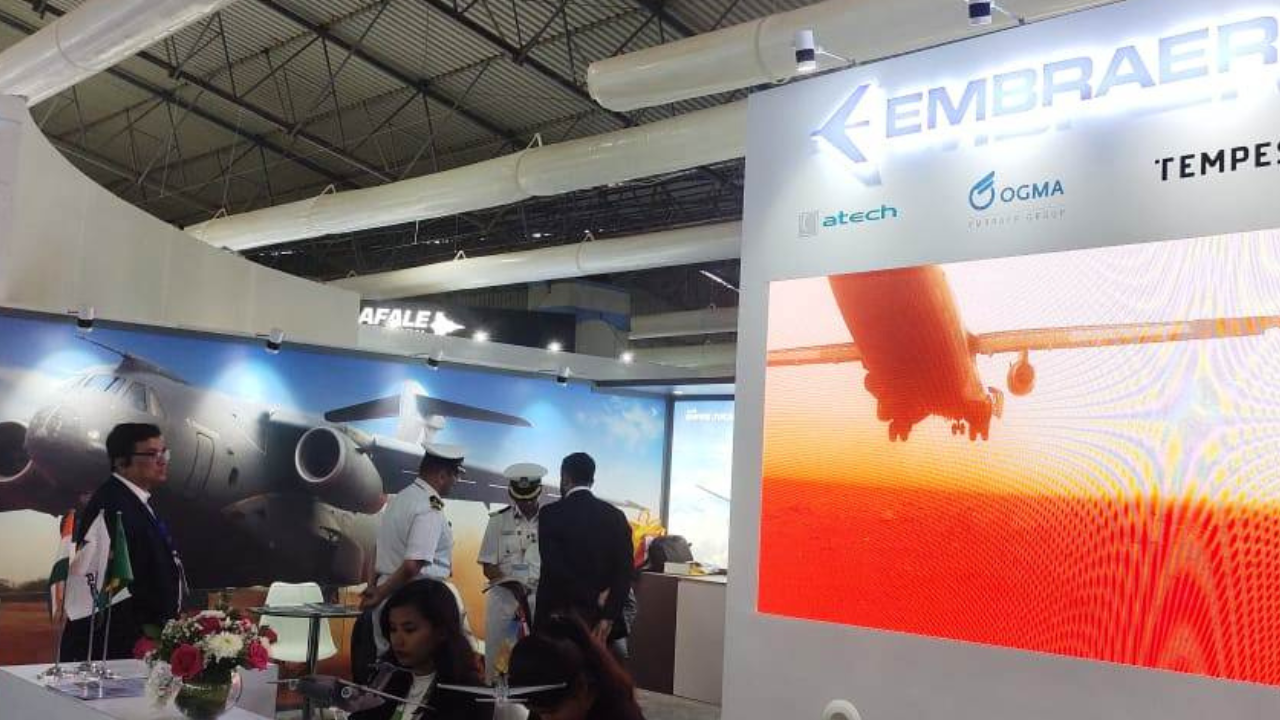 Image courtesy: Arroon (Kumar) Dikkshit
Major agreements
✔ MoU between Hindustan Aeronautics Limited and Safran Helicopter Engines, France for Work Share for formation of Joint venture for Design, Development, Manufacture and lifetime support of Helicopter Engines.
✔ MoU between Bharat Electronics Ltd and Aeronautical Development Agency on IWBC and Other LRUs for Advanced Medium Combat Aircraft (AMCA).
✔ Co-operation between BSS Material Limited and Pegasus Engineering, an ADUSEA Inc. Division (USA) for Logistic Drones for the Indian Army towards Last Mile Delivery for forward troops deployed along the border areas with capability of operation in wind/gust conditions, rain/Snow etc.
✔ MoU between Gopalan Aerospace India Pvt. Ltd. and Omnipol, Czech Republic for manufacturing and assembling the first passenger aircraft (L 410 UVP-E20 version) by a private company in India.
✔ MoU on collaboration with Sagar Defence Engineering Private Limited (SDEPL) & Israel Aerospace Industries (IAI) for the IDEX Challenge "Autonomous Weaponized boat Swarm" for the Indian Navy.
✔ MoU between Bharat Dynamics Limited and Bultexpro Ltd, Bulgaria for setting up the manufacturing facilities for 122mm GRAD BM ER and NONER rockets in India and fulfilling the requirements (including ToT).
✔ MoU between GRSE and Rolls-Royce Solutions GmbH (MTU) for License production with localization of the MTU 16V4000M73L engine to support the indigenous content for the Next Generation Fast Attack Craft vessel for the Indian Navy.
✔ BEML enters into License Agreement for Transfer of Technology (ToT) with R&DEE, DRDO for development and supply of TRAWL Assembly for T-72/T-90 Tanks.
✔ ToT of Shakti EW System from DLRL DRDO to BEL Hyderabad Unit for all system units, Bill of Material, Test procedures, integration & offering methodology.
✔ MoU between Hindustan Aeronautics Limited and Elta Systems Limited, Israel for cooperation on future Business in Maritime Patrol Radar (MPR) for Indian Platforms.
Image courtesy: Arroon (Kumar) Dikkshit
Products
⮚ Vertically Launch Short Range Surface-to-Air Missile (Bharat Dynamics Limited): VLSRSAM is a next-generation, ship-based, all-weather, air defence weapon which can be used by the Navy as a quick reaction point defence against supersonic sea skimming targets like aircraft and UAVs. The Missile has a smokeless propulsion system with all-weather capability. It has a highly agile configuration with state-of-the-art Electronic Counter-Counter Measures features.
⮚ SAL Seeker ATGM for BMP II (Bharat Dynamics Limited): Semi-Active Laser Seeker based Anti-Tank Guided Missile for BMP-II is a subsonic missile with a range of 4,000 metres and flight time of 25 seconds. The missile weighs 23 kgs with the launch tube and can be used in different kinds of terrains to incapacitate the moving and stationary targets such as tanks and Infantry Combat Vehicles.
⮚ Jishnu (Bharat Dynamics Limited): Jishnu, a Drone Delivered Missile, is a lightweight and miniaturised missile targeted for soft-skinned targets. It has a range of 1.5 km with a flight time of 9 seconds. The missile can be semi-automatic or completely autonomous based on the systems configurations.
⮚ Software defined NAVIC/GPS receiver module based on indigenously-developed processors (Astra Microwave Products Limited).
⮚ Indigenously-built 'Counter Drone Radar' based on technology from DRDO (Astra Microwave Products Limited).
⮚ 9 mm subsonic ammunition (Munitions India Limited).
⮚ BFT on Ios (ideaForge Technology Limited): BlueFire Touch BlueFire Touch, our Ground Control Station (GCS) software, is built to plan and command both mapping and surveillance missions with the ability to pre-plan missions based on operational area and target locations via waypoint-based navigation.
⮚ HF SDR Radio (Bharat Electronics Limited): It is an advanced software defined radio. The radio is a lightweight 20 W transmit capable radio. It provides a complete solution to the short-range communication requirements in the crowded HF band and long-range communications beyond line of sight.
⮚ Goniometer (Bharat Electronics Limited): It is part of any integrated observation and fire control monitoring system for day time or night time use by the Artillery.
Manthan
The annual defence innovation event, Manthan, was the flagship technology showcase event held on 15th February. Being organised by Innovations for Defence Excellence (iDEX), the Manthan platform brought the leading innovators, start-ups, MSMEs, incubators, academia and Investors from defence & aerospace ecosystem under one roof. The Raksha Mantri presided over this event that saw many firsts, including launch of challenges on Cyber Security, establishment of iDEX Investor Hub, MoUs with investors etc.
India Pavilion
The 'India Pavilion', based on the 'Fixed Wing Platform' theme, showcased India's growth in the area, including the future prospects. There were a total of 115 companies, displaying 227 products. It further showcased the growth of India in developing an ecosystem for Fixed Wing platform which includes the demonstration of various structural modules, simulators, systems (LRUs) etc. of LCA-Tejas aircraft being produced by Private Partners. There was also a section for Defence space, New Technologies and a UAV section which will give an insight about the growth of India in each sector. A full scale LCA-Tejas aircraft in Full Operational Capability (FOC) configuration was at the centre stage of India Pavilion. LCA Tejas is a single engine, light weight, highly agile, multi-role supersonic fighter.
Seminars
A number of seminars were held during the five-day event. The themes include 'Harnessing Potential of Ex-servicemen for Indian Defence Industry; India's Defence Space Initiative: Opportunities for shaping Indian private space ecosystem; Indigenous development of futuristic aerospace technologies, including aero engines; Destination Karnataka: US-India defence cooperation innovation and Make in India; Advancement in maritime surveillance equipment and assets; sustenance in MRO and Obsolescence Mitigation and achieving excellence in defence grade drones and Aatmanirbharta in Aero Armament Sustenance.
Data and dignitary quotes sourced from PIB.