The journey from mechanized factories in the late 1700s to intelligent production and fully connected digital ecosystems today, the face of digitalization in the context of manufacturing has truly evolved. In the manufacturing context, digital transformation means leveraging data to enhance capability, especially, in agility and transparency.
Although for India, a fully automated digital ecosystem may be a distant dream, however, it is slowly picking pace with some industries already implementing the phase 1 of digitalization. The journey of digital transformation may take an enormous amount of time, energy, and investments, but the fruits it bears in terms of productivity improvement, cost optimization, reduction in defects and supply chain predictability is significant.
The key elements of digital transformation is the data generation at various production stages, communication of the data thus gathered through IoT network OR 4G/5G, storage of data on cloud/ data servers and processing engines such as big data analytics, Artificial Intelligence and Machine Learning that helps in drawing an informed decisions to achieve organizational objectives.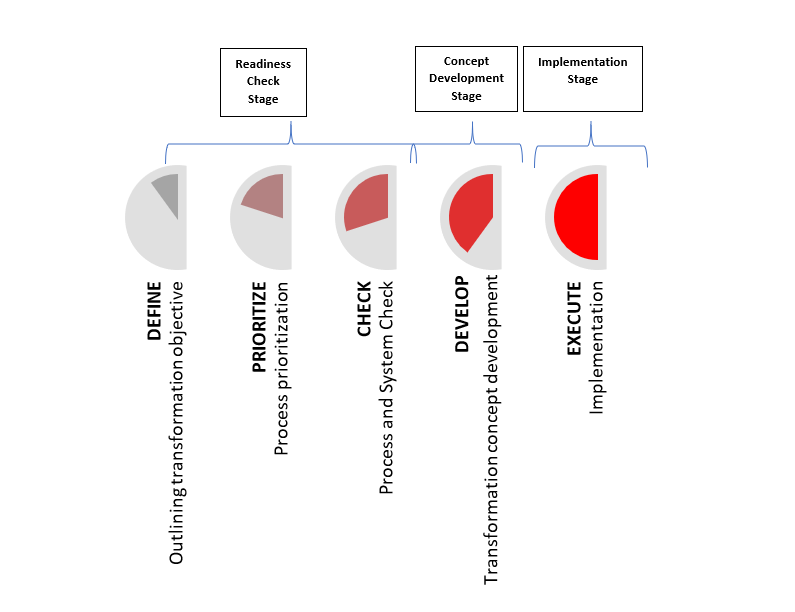 EAC International Consulting is among the leading consulting firms for internationalization strategies, M&A and Operational Excellence solutions in NIC's and emerging markets and uses their proprietary 5 step model.