February 2023: The Smart Manufacturing in Automotive Summit 2023 (Pune Edition) presented by Rockwell Automation concluded successfully at the JW Marriott in Pune. Powered by Pro MFG Media, the Summit provided innovation insights and strategies for professional development to automotive manufacturing professionals from across the value chain (including OEMs, Tier 1, Tier 2 and Battery manufacturers) and across different functions like operations, design, engineering, supply chain, quality, and so on. The Summit's theme was 'Accelerating Change - Delivering Next-Generation Automobiles'. As the automotive industry continues to evolve rapidly, consumers desire the latest technology experience from vehicles with advanced, connected, and 'smarter' innovations. That is exactly what our industry speakers discussed at the Summit.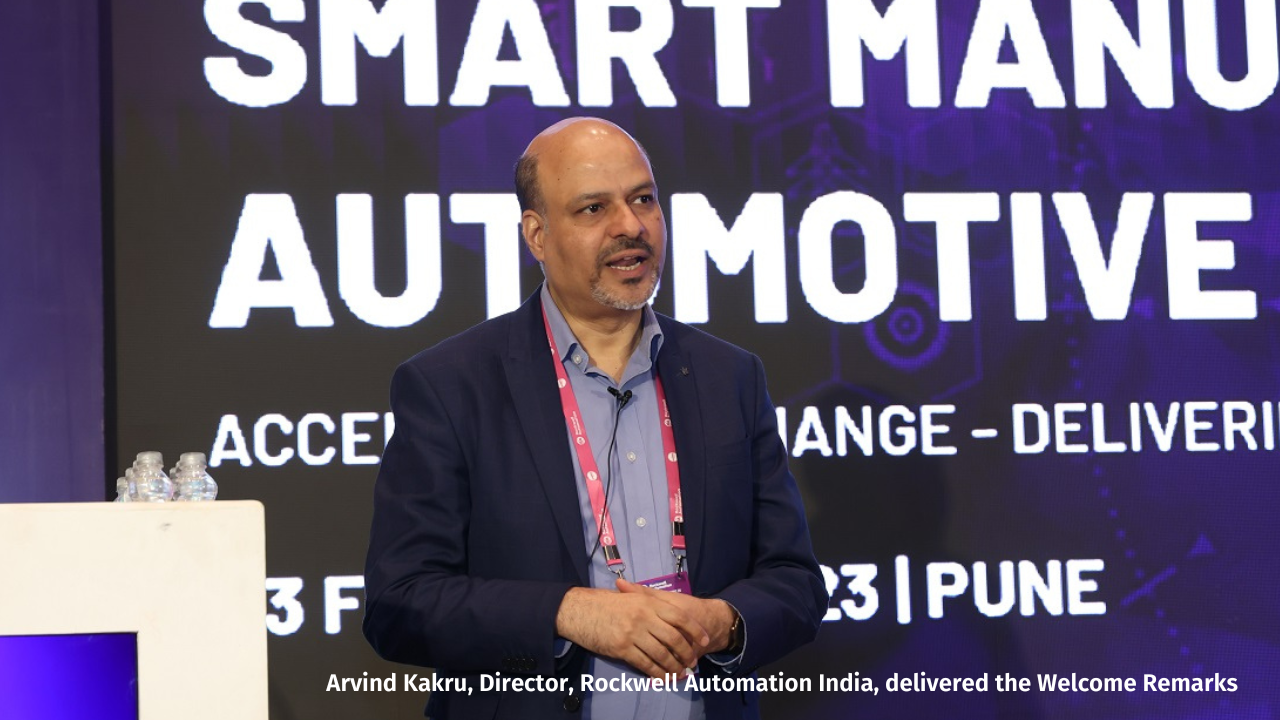 Welcome Remarks
Arvind Kakru, Director, Rockwell Automation India, delivered the Welcome Remarks, wherein he highlighted 'India's potential as a manufacturing hub and how the auto industry is at the centre of India's rise'. Mr. Kakru also remarked that the automotive manufacturing industry is also at the forefront in terms of adopting digital technologies.
Keynote Address
During his keynote address, Vivek Sharma, Sr. Vice President & Head- Central Manufacturing Engineering, Automotive Sector, Mahindra Group, said that 'increasing product complexity, reducing lifecycles and faster time to market are the biggest challenges for today's automotive industry that can be addressed through digital tools'. "Advent of the electric vehicles has further transformed the industry," he added.
Manufacturing Operations & Quality
The first panel discussion of the summit that focused on manufacturing operations and quality was chaired by Manish Kulkarni, Co-Founder & Director, Pro MFG Media. The esteemed panellists included Vinod Khode, Group CIO and Vice President, Varroc Group, Vivek Gosain, Head Manufacturing Engineering, Tata Motors Passenger Vehicles Business unit, Umakanth Nair, Director – Centre of Excellence, Eaton, Ashwin Shastri, Chief Transformation Officer, Tata AutoComp Systems Ltd., Umesh Shah, Sr. VP & COO, Haldex Anand India Pvt. Ltd. and Arvind Kakru, Director, Rockwell Automation India. During the first panel discussion, Mr. Gosain pointed out that faster and higher production at lower energy costs was possible due to digital transformation. Mr. Nair underlined the fact that digital transformation is also business transformation and hence manufacturing organizations need to approach it strategically. Mr. Shah highlighted the significance of automation in the context of addressing market dynamics, while Mr. Shastri spoke about the importance of having the right mindset. "Embrace automation at the right places; not anywhere and everywhere," he said. While Mr. Khode spoke about the need for maximising capex, Mr. Kakru said that operational criticalities and market complexities are driving the adoption of automation.
Industry Oriented Presentations
The presentation by Srivatsa Mahesh, Business Head, Cybernetik Technologies Pvt Ltd focused on using technology for complex battery production. The second presentation was done by Shubham Garg, Industry Consultant- Automotive, Rockwell Automation India. Mr. Garg defined smart manufacturing as a blend of smart people and smart technology. Both speakers used pertinent examples to substantiate their viewpoints.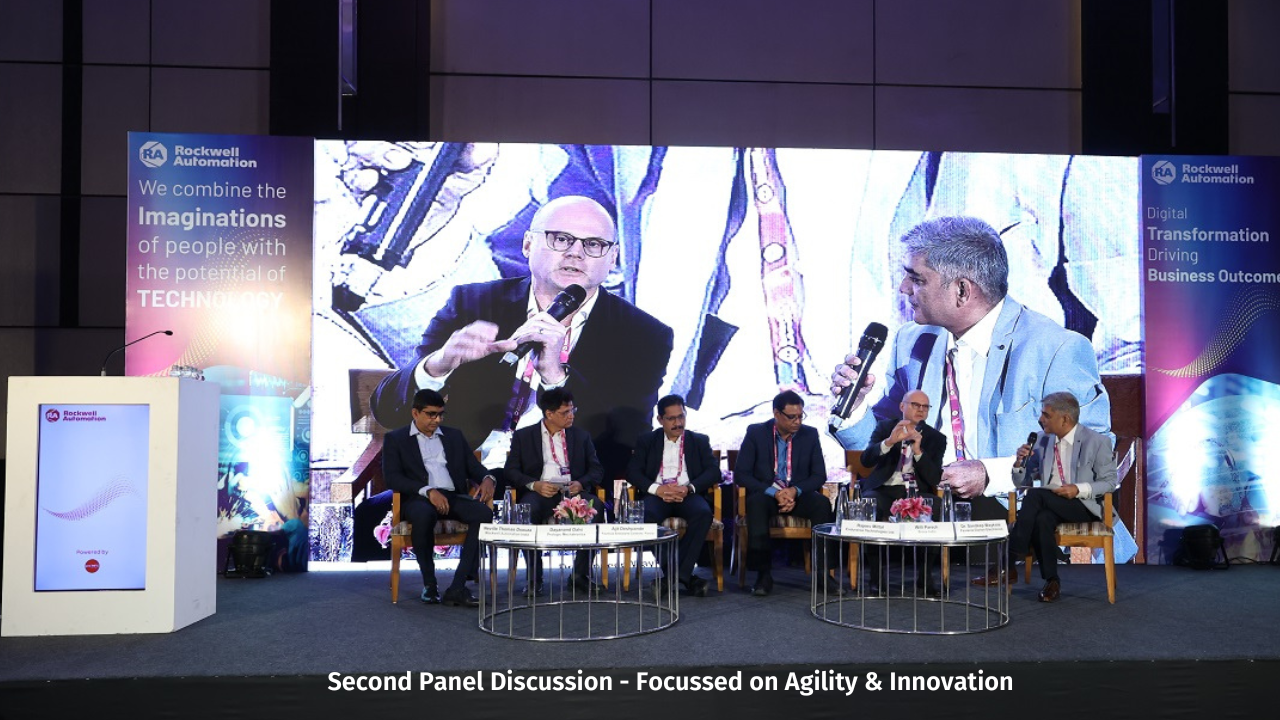 Agility and Innovation
The second panel discussion of the day focussed on Agility and Innovation and it was Chaired Dr. Sandeep Waykole, Business Director & Global Program Director, Faurecia Clarion Electronics. The panellists included esteemed speakers Willi Parsch, Vice President Advanced Development, Brose Group, Rajeev Mittal, Chief Information Officer, Endurance Technologies Ltd. Ajit Deshpande, Country Head IT - India & ASEAN, Faurecia India, Dayanand Dalvi, Founder & MD, Prologic Mechatronics Pvt. Ltd. and Neville Thomas Dsouza, Regional Sales Head End User West, Rockwell Automation India. Mr. Parsch highlighted that images are getting better and clearer. "This is giving more visibility for better decision making," he said. Mr. Mittal identified the four pillars of digital transformation as 1. Suppliers, 2. Customers, 3. Employees and 4. Operations. "Synchronized integration of these four pillars is the key to success," he said. Mr. Deshpande underlined the importance of agility in the context of change management. Mr. Dalvi said that digital tools enable management of product mix in alignment jobs per hour (JPH) constraints. Mr. Dsouza urged the delegates to think big with reference to digitalization. "Your platform should be able to deliver the big picture," he said. Dr. Waykole, panel chair, underlined the importance of timely, clear and correct communication in the context of change management.
Overwhelming response
The Summit received an overwhelming response in terms of industry attendees. More than 200 registered delegates attended the Summit. Niranjan Mudholkar, Editorial Director, Pro MFG Media, shared the opening remarks and also summarized the proceedings of the day. The Vote of Thanks was delivered by Komal Shah, Regional Sales Manager - Channel at Rockwell Automation.
Insightful Learnings & Winning Delegates
Every summit has some interesting and insightful learnings for the delegates. But oftentimes, delegates tend to forget the key takeaways of the Summit as they get engaged with their work. In this context, an interesting contest was announced at the end of the Summit. All delegates were asked to email their learnings of the Summit in about 40 words to 400 words. The contest received overwhelming response. And while it was announced that the top five delegates will be declared as winners, considering the quality of the learnings, the editorial team decided to select the top six! The winning entries were sent by (in alphabetical order): Anant Khond, General Manager – Paint Shop, Mahindra & Mahindra Ltd., Pavan Goyal, Manager - Machine Shop, Mahindra Heavy Engines, Shekhar Tak, Sr. Manager, Faurecia Automotive Seating, Shivaji Waje, Project & Maintenance Manager, Mahindra & Mahindra Ltd., Sudesh Sonawane, GM Manufacturing, TBK India, and Sudhir Kadlag, Sr. Maintenance Engineer, Lear Corporation.